Interactive infokiosk
An information desk in an appealing form
Do you want to make the event participants interested in your product and present the product information in an exceptional way? Or perhaps you want to provide some fun and thrill to them? Multimedia interactive kiosks offer both, as well as much more. Those are self-service electronic devices used for many purposes. Featuring cutting-edge technologies and innovative solutions, the multimedia interactive kiosks are not only a great tool for promotion, but also ensure instant access to the required information. Interactive kiosks are tools which can be used for an opinion poll, booking a ticket at the airport or railway station, or placing an order in a restaurant. The interactive kiosk can also be the source of great fun with competitions and quizzes. The extensive use of this device is not restricted to the building interior. Multimedia interactive kiosks, resistant to weather conditions, are installed also outdoors in the city to provide information all day long.
Multimedia interactive kiosks — advantages
They are numerous and new ones are emerging all the time. What are the characteristic features of the interactive information desk, meaning the interactive kiosk? Here is the list of its most important features:
cutting-edge and highly appealing design,
uncomplicated operation,
high fault tolerance,
enormous functionality,
attractive price when given their versatility.
Multimedia interactive kiosk — examples of use
Using the interactive kiosk, you may attain your sales, advertising, survey or information goals. This device is particularly useful when presenting products and services of a given brand as well as during promotional and advertising campaigns. The interactive kiosk helps to deliver information quickly and to carry out market studies. This is also a great tool for organising competitions and lotteries.
Where to place an interactive kiosk?
State-of-the-art information desks can be placed wherever you want, but the interactive kiosks may turn out most useful:
during events, promotional and marketing campaigns,
in shopping centres and supermarkets,
in restaurants, travel agencies and chemists',
during trade fairs and conferences,
in banks and insurance companies.
If you want to learn more about multimedia interactive kiosks or to learn the details of our offer, including the lending price or the scope of services, do not hesitate to contact us.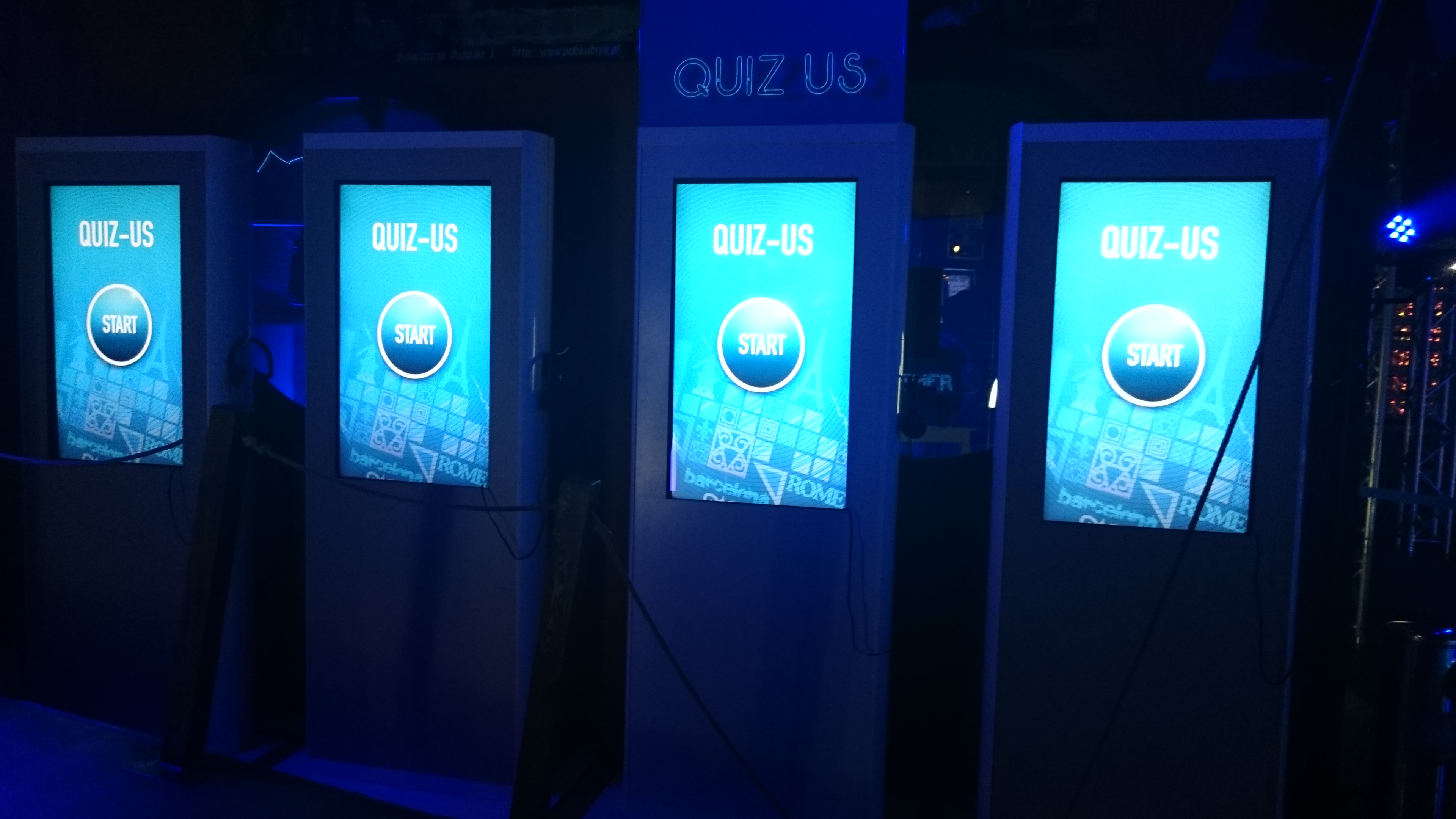 Branding / customisation
If you wish:
we can customise all the mechanics to the content promoted by you
we will prepare customised graphic design and animation
we will place your corporate logotype in the application and/or on the housing
ORDER
Examples of the interactive kiosk use
Events and advertising
(product promotion, company events, team-building events, galas)
Conferences and training sessions