Interactive multimedia table 
Play and learn at the same time
During events and promotional campaigns the organisers want to attract the participants' attention, pass information and ensure extraordinary entertainment. The multimedia table has all those features and can be used for any purpose. Thanks to innovative solutions and high-tech multi-touch technology, the touch table can be used by many people at the same time. This is not only an interesting way to present information, but also a multimedia tool used for entertainment. The intuitive interactive multimedia tool is durable and easy to operate. Its amazing design and appealing appearance make it look nice in smart and stylish interiors of banquet and conference rooms. Browse through pictures and videos, look for answers to questions, take part in interactive games. The multimedia table offers all that and much more.
We will create a touch table to meet your needs
Our customers do not have to use ready-made applications. It is not a problem for us to design new, dedicated applications. Depending on the meeting purpose and nature, the multimedia table is customised to the individual customers' needs. We guarantee attractive and ingenious solutions, including microtables with a tablet. The service price can also be surprisingly low. The quality is always the best.
Where can the multimedia table be used?
This attraction is great fun. The interactive multimedia table will make the guests curious, involve them and provide information and entertainment in a pleasant and unconventional way. Consequently, it is used primarily:
during events, trade fairs and conferences
during promotional and advertising campaigns
in offices
in tourist information centres and museums
in shopping centres
Interactive multimedia table — what is the price of this attraction?
There is no explicit answer to that question. The service price is conditional on its scope. When the customer specifies their requirements and needs, we amend the agreement and notify of the costs. The price is higher for dedicated applications. Contact us, we will surely manage to reach agreement.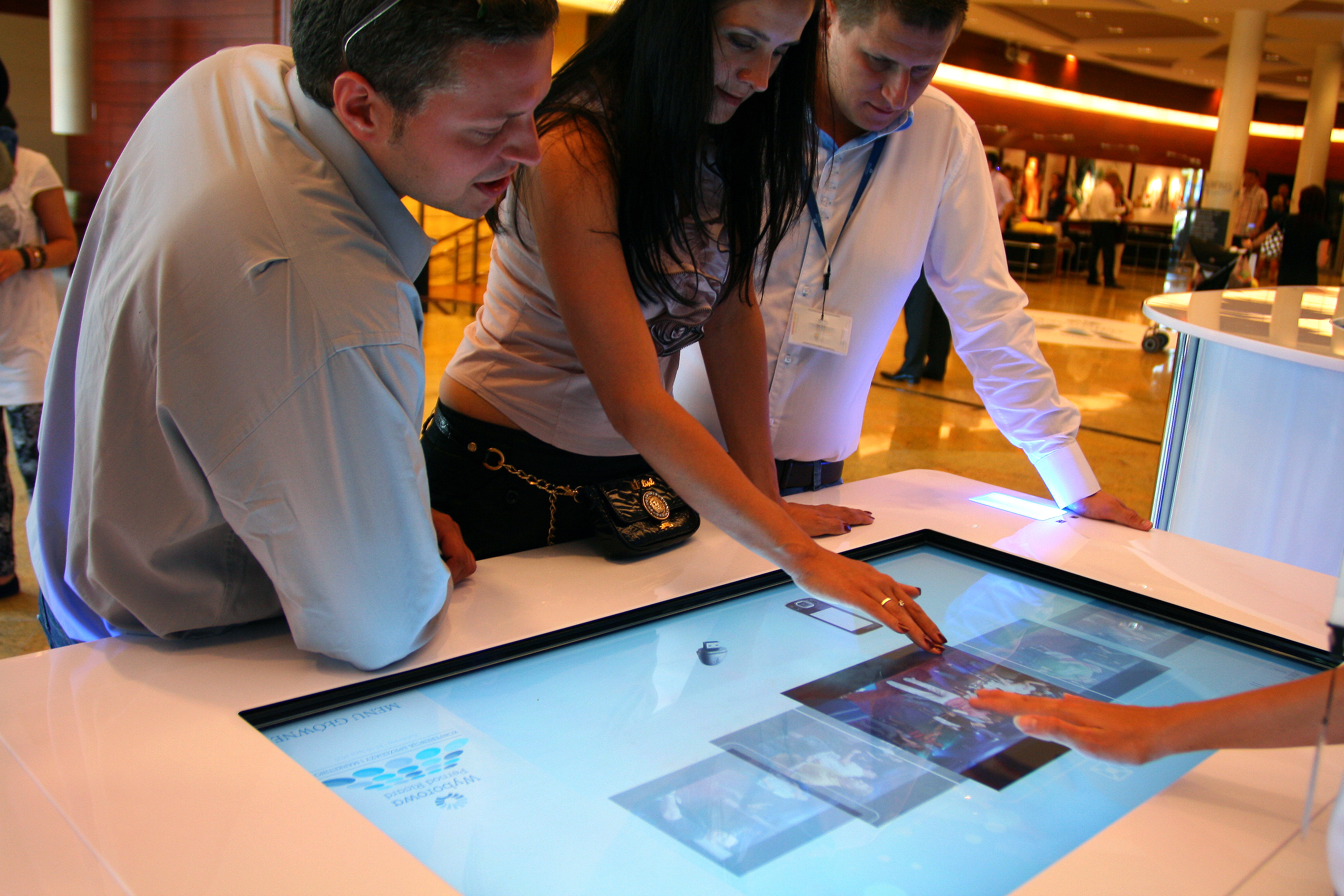 Branding / customisation
If you wish:
we can customise all the application mechanics to the content promoted by you
we will prepare customised graphic design and animation
we will place your corporate logotype in the application and/or on the housing
ORDER
Examples of using the interactive multimedia table
Events and advertising
(product promotion, company events, team-building events, galas)
Conferences and training sessions