Photo Mosaic
The first Photo Mosaic in Poland, created by the guests during the event!
A Photo Mosaic is a highly showy attraction, popular abroad and now available also in Poland! It will be great at all sorts of mass events or galas, arousing interest and activating your event's guests.
A key component of this attraction is a photo wall divided into small numbered squares. Every single photo is a component of a greater whole, the whole creating a picture connected with the event or a corporate logotype. The result is a surprising collage of participants, creating the desired picture.
What is more, we can also place a display with an animated video and an application informing on the final image beside the mosaic wall. Thanks to that, everyone will be able to see what part of the picture, out of a thousand photos, is created by her or his picture.
The mosaic can be an interesting material promoting the event and can generate traffic in social media. During the event, we shoot a short video documenting the Photo Mosaic preparation (the so-called timelapse) which is sent electronically to all volunteers participating in the event.
How does the device operate?
The volunteers stand against a green background (Greenbox technology). We take photos of them and print them in a couple of minutes. Every person participating in the session receives her or his photo in the form of a sticker and places it on the wall.
Timelapse documenting mosaic creation
Advantages of the solution

You attract customers
This solution attracts many people and makes them stay for some longer time within the stand, thanks to which you can put your offer through to the customer much faster and more easily.

You reach a new group
The event guests may share photos of the Photo Mosaic with a dedicated graphic design and mark them with a #hashtag

You promote the brand
Your corporate logotype in the graphic design, in the e-mail body, in the video, on the display, on the banner under the mosaic

You extend your customers' base
Thanks to the option to send photos by e-mail, you acquire new e-mail addresses

You intensify interaction
The event participants receive a video documenting Photo Mosaic preparation with your logotype by e-mail

You arouse positive emotions
Your guests are involved and have great fun when doing the photo jigsaw puzzles from a thousand different pieces 😉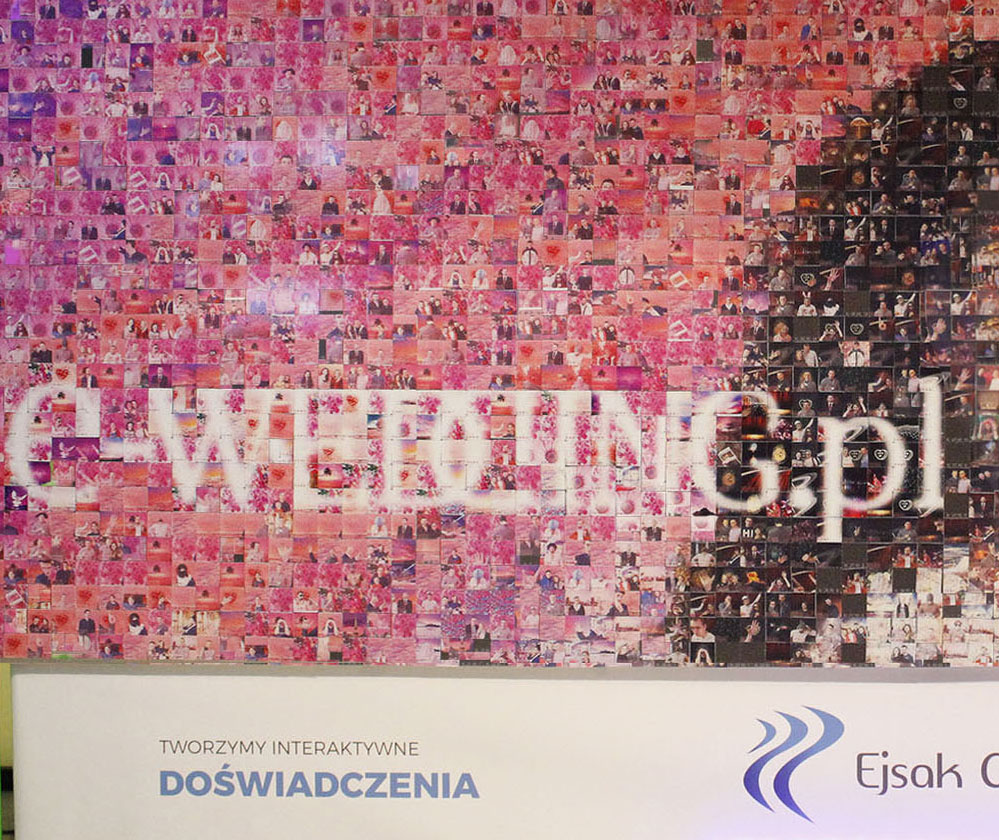 Branding / customisation
Your corporate logo can be placed:
in the dedicated graphic design of the mosaic
on the screen where the attraction is displayed
in the body of the e-mail sent to the event participants
in the video documenting the event creation
under the mosaic (on a banner)
ORDER
Examples of Photo Mosaic application
Events and advertising
(product promotion, company events, team-building events, galas)
Conferences and training sessions